Some might notice that some features are not yet activated for them, like uploading your Avatar image, posting embedded images or videos or editing the signature.
You'll have to wait for the Administrator to activate that for you. It helps having at least one post and it should take up to 24h. If your activation seems to take longer, post on the forum about it or try contacting a moderator.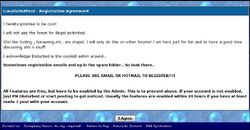 Ad blocker interference detected!
Wikia is a free-to-use site that makes money from advertising. We have a modified experience for viewers using ad blockers

Wikia is not accessible if you've made further modifications. Remove the custom ad blocker rule(s) and the page will load as expected.